If you are a Dachshund fan that has one of these fantastic pups or are looking to get a pooch, then it is wise to consider the common health problems of this breed.
Most dogs are predisposed to a wide range of illnesses, and while this does not mean that they will suffer from them, it is always sensible to be aware of the possibility and have all the relevant tests done so that you can offer your dog the best care possible.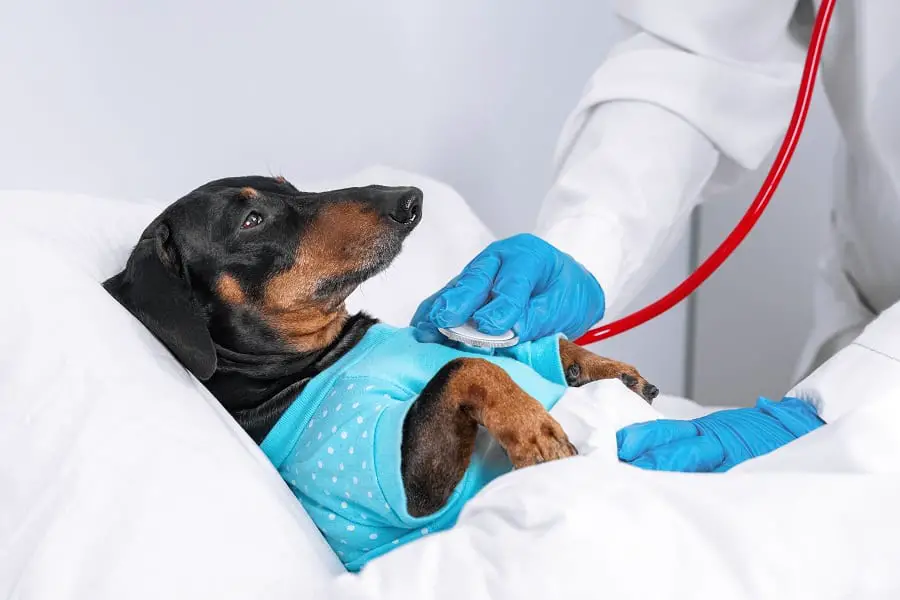 We've listed the ten most common health conditions for dachshunds and explained what happens if they are left untreated.
In addition, it is vital that you take your Dachshund to the vet for regular check-ups as well as keeping up to date on inoculations.
Also, if you are still looking for that perfect pup, then make sure that you go to a breeder that will let you see the mother with the puppy and one that has all the paperwork and test scores for the stud.
Intervertebral Disc Disease (IVDD)
First up is Intervertebral Disc Disease (IVDD). This is a spine disorder that makes the intervertebral discs degenerate and calcify, rendering them useless in doing their job.
This is very common in the Dachshund breed because of their long body and short legs.
If your dog develops this condition, then they will suffer from severe pain that travels down their neck and back, stopping them from wanting to move too much or go on walks.
However, the good news is that it can be tested for, so you know the prognosis for your pup, and there are also preventative measures that you can take to help strengthen their spines.
First, lots of exercise and walks every day that will help to build strength in the muscles. Next, it's essential not to let your dog jump up or down as this can injure them or slowly damage the intervertebral discs, rendering them useless in later life.
Finally, if your Dachshund loves to be carried around, make sure that you support their full weight across their body rather than picking them up from the front end only.
Obesity
When it comes to treating our pooches or giving them too much food, many of us are guilty.
As humans, we associate food with love and teach our pets the same lesson during training and when showing affection. Sadly, the Dachshund breed is prone to developing obesity as they cannot burn off every treat they are given.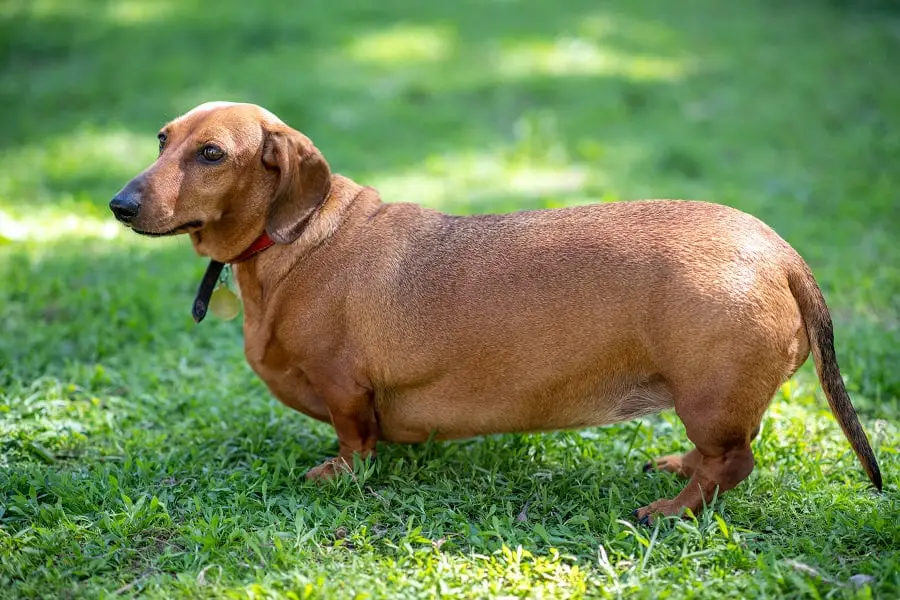 Unfortunately, an overweight Dachshund is at risk or other health conditions and even premature death.
These conditions include back problems, arthritis and high blood pressure, all of which are potentially lethal if not managed appropriately.
The good news is that obesity does not need to be a problem at all as long as you exercise your dog regularly, provide them with a healthy diet and offer occasional treats.
Thyroid Disorders
Thyroid disorders are prevalent in lots of dog breeds, and they tend to present themselves across many of the Dachshunds across the world.
This breed typically suffers from Hypothyroidism, otherwise known as an Under Active Thyroid.
If your pup has this disorder, it will affect the rate at which they metabolize their food and can leave your dog feeling tired, depressed and uninterested in exercise.
If left untreated, it can also cause them to struggle with the temperature, feeling cold and being unable to warm up, causing hair loss and even causing fertility problems in dogs that have not been fixed.
Hypothyroidism happens when your dog's thyroid does not produce enough hormones to keep the body in balance.
It's easy to diagnose and can be tested for with blood work so that if your dog is displaying signs of the illness, you can get it resolved quickly and get them back to optimum health.
The good news is that this condition is treatable, and the treatment is super easy to give to your pooch! Your vet will prescribe Thyroxine, and you will need to administer this every day to your dog for the rest of their life.
You will also need to return for additional check-ups to ensure that the medication is appropriately dosed as time goes by.
Progressive Retinal Atrophy (NPHP4)
Progressive Retinal Atrophy is an eye disease that is inherited by dogs and causes them to become blind when they are in bright light.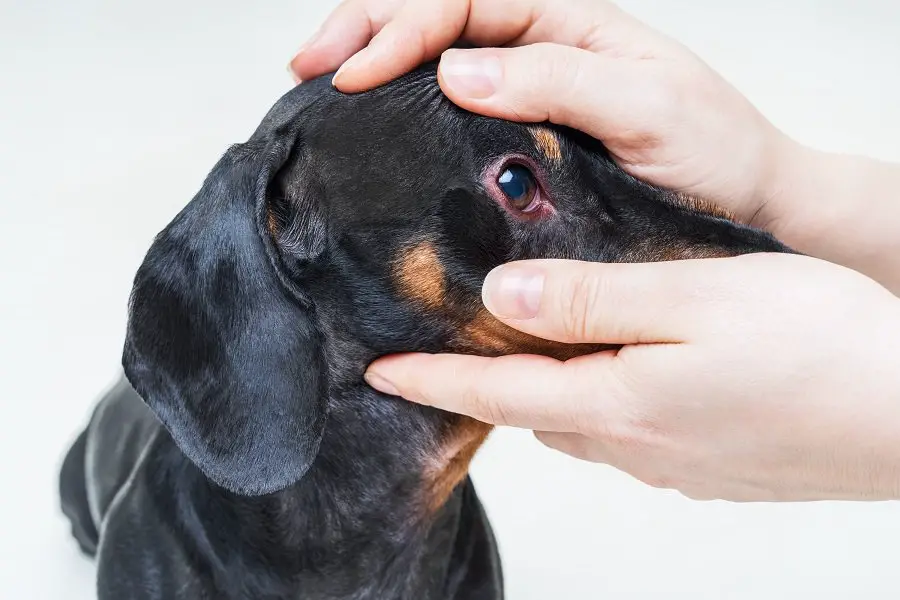 This good news is that dogs can be tested for this as early as five weeks old, but there is no cure if your dog is a sufferer, and you will need to work with your vet to manage it as best as possible to provide your dog with a happy life.
This disease affects around ten percent of the Dachshund breed, and it is an inherited disorder.
If you are looking to get one of these beautiful puppies, you will need to ensure that the breeder carries out the screening test before you agree to take the puppy away.
Breeders that don't test cannot be trusted to have reared the puppy in the right conditions, and it is best to move your search to a new breeder that will provide this information. 
Cushing's Disease
If your Dachshund is diagnosed with Cushing's Disease, then it means that their adrenal glands are producing too much cortisone.
This condition shows itself in many different symptoms and can be hard to diagnose unless you take your pet for regular check-ups.
The main symptoms of this illness include a larger appetite and thirst, weight gain, tiredness and hair loss. Unfortunately, many owners put these symptoms down to ageing and fail to have them checked out.
As the Dachshund is prone to this disease, it is important to have any concerns checked as they arise. Cushing's Disease can be managed either by steroids or with medication depending on the cause of the illness.
In addition to medications, your dog will need to be tested at least twice a month to keep an eye on their cortisol levels.
This condition does take some work to manage effectively, but when you have it under control, your dog should be healthier and happier once more.
Patella Luxation
Patella Luxation is a knee problem that occurs within the first six months of a dog's life, making it easy to diagnose at one of your early vet appointments.
This condition is common in smaller dogs and causes pain and mobility issues that will need attention to keep your dog healthy.
The actual illness means that the kneecap is not secure, and this can result in it dislocating or popping out of place. In most cases, the kneecap will go back into place, but for some dogs, the only way to fix it is by having surgery.
When your dog is diagnosed, you will be told what grade the illness is at; Grade 1 being the least problematic and Grade 4 being the most.
If your dog has Grade 1, they should be able to live with the illness as long as you pay close attention when they show signs of pain or discomfort.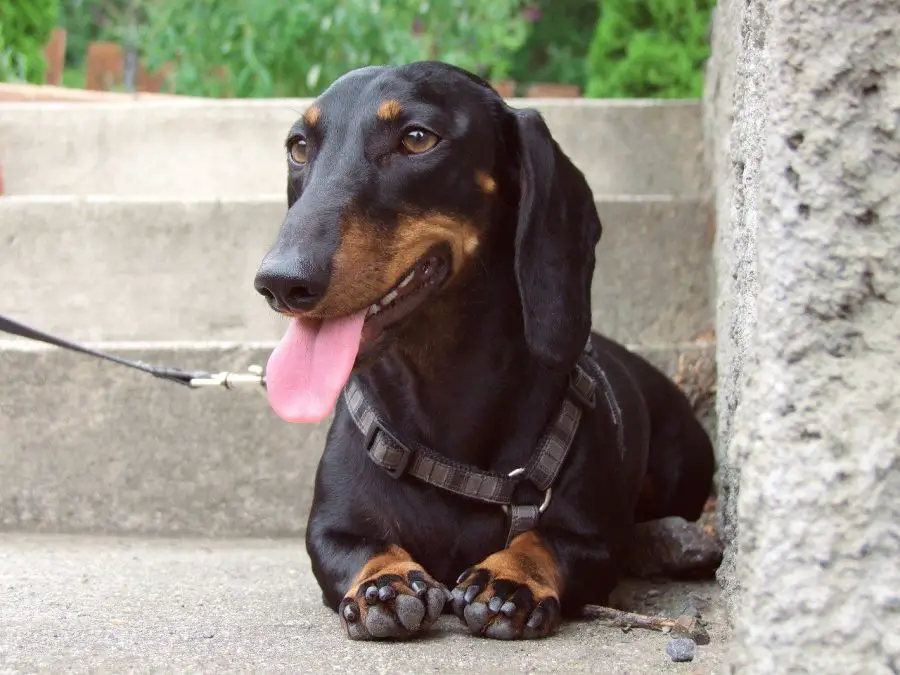 As the grades increase, the less likely it is that your dog will be able to manage without intervention.
Grades 3 & 4 tend to result in surgery, and Grade 2 will need to be closely monitored to see how often your dog's kneecap pops out of place; if it becomes more frequent, the vet will upgrade it and you will need to consider surgery.
Acanthosis Nigricans
Acanthosis Nigricans is typically found in short-haired Dachshunds and refers to an unpleasant skin condition that usually affects the chest area of your pooch.
It's apparent by its appearance as the skin in the affected area becomes darker and thicker with hair loss coming later if it is left untreated.
As well as affecting short-haired dogs, it's most common in those that are overweight, and it can spread across the body if nothing is done. It is made worse during exercise as the skin rubs together and exacerbates the condition.
Diagnosing this condition is not as easy as you'd hope because it is done by a series of elimination rather than testing for the disease.
Vets will assess whether the pup may have a food allergy or another type of skin condition as well as considering Acanthosis Nigricans.
The treatment for this is far simpler than the diagnosis and consists of helping your dog to maintain a healthy weight and using creams or oral steroids to control flare-ups as they appear.
The good news is that if it is managed well and monitored, your lovely Dachshund will live a long and happy life with you.
Epilepsy
Epilepsy and Narcolepsy are both conditions that are common in short-haired Dachshunds and present when your dog suffers from repeated seizures over a period of time.
This condition can be very frightening when you first witness it, and many owners worry that they have done something wrong and caused it. This is not the case at all!
These conditions are neurological, and while they cause stress and upset when first seen, they can be controlled with medication.
If your dog has any form of seizure, then you must take them to a vet to be checked out. The vet will work with you to get a full history of your pup and do tests to determine if they have Epilepsy.
The great news is that this can be controlled with medication, and most medicated dogs have very few seizures after the medication has been started.
This illness does not need to limit the life of your Dachshund, and you can look forward to many happy years together with it under control.
Allergies
Many dogs suffer from common allergies, and Dachshunds are no different. Whether it is a reaction to food, weather or skin problems, it is essential to work to find a solution so that your dog can enjoy a fulfilling life.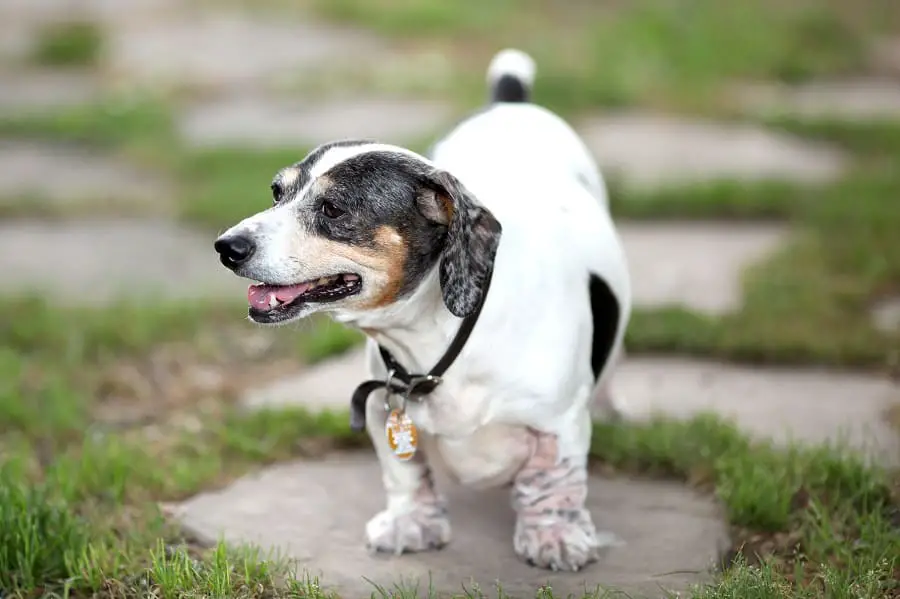 As a breed, you will find that Dachshunds are at risk of many skin allergies that tend to be exacerbated when your dog is overweight.
Common conditions include rashes and dermatitis, as well as internal allergies that are caused by the type of food they eat.
Some of the apparent signs of allergies include dandruff, itchiness, scaling, and even a change in the colour of their coat.
If you notice your pooch is struggling with a skin condition or has difficulty digesting and going to the toilet, then your first port of call should always be to the vet.
They will help to diagnose any type of allergy and offer solutions such as changing diet or exercise regimes as well as providing medicated creams and topical ointments to manage a flare-up.
It is vital to manage the allergies effectively so that you don't run the risk of them developing into a much bigger issue.
Degenerative Mitral Valve Disease (DMVD)
This condition is most common in older Dachshunds and appears in most dogs aged 8 – 10. It is essentially a leaking heart valve that shows itself as a heart murmur and is picked up easily during routine exams.
The earlier this disease is found, the easier it is to manage it, and because it is such a common illness, vets are confident in diagnosing it.
To manage this condition, you will need to ensure that your pet has a very healthy diet and is not allowed to become overweight, as this can exacerbate the severity of the illness, making the heart work harder than it should be.
If your dog has severe DMVD, then they may be medicated to help the problem once it progresses into the heart failure stage, but this is rare as most dogs manage to live well if they are healthy and active.
Summary
Keeping Dachshunds healthy is an essential part of being a dog owner, and many of us can become overly worried or concerned about the health of our loved ones.
However, all the conditions listed can be discussed and diagnosed with your chosen vet.
Therefore, the important message is that regular check-ups are essential to keep an eye on anything concerning as well as booking a routine examination if you are worried about anything that crops up.