One Dachshund scampering energetically around the house is almost perfect. What's better than one of something great? Double it!
Whether you're considering purchasing two doxies at once or adding a second to your loving family, read on. We'll go over some benefits for having more than one doxie and hopefully help you finalize your decision.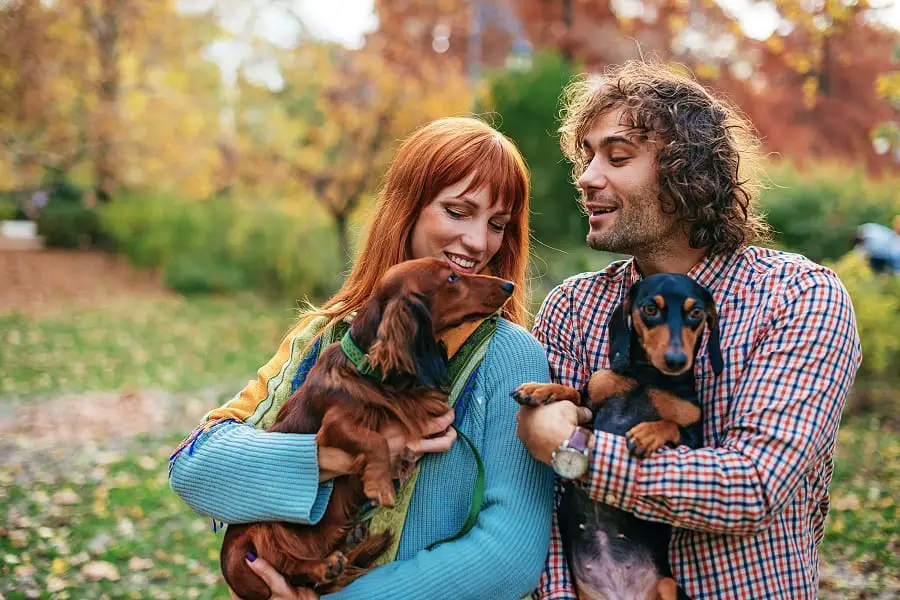 Before we begin, it's important to remember that the Dachshund breed by nature is one that likes to have a companion and is considered a pack breed.
Not just any companion, mind you, but specifically another doxie. They are good with other breeds, but they have a special affinity for their own kind. 
Before We Begin…
There are some preliminary considerations. It's thought that adopting littermates isn't always advisable due to something called 'Littermate syndrome'.
Littermates are of course puppies born to the same mother, but 'Littermate syndrome' is not exclusive to blood siblings. It can simply be brought on by adopting two doxies that are similar in age.
The syndrome can bring about socialization and behavioural issues. Namely, the puppies will become too codependent upon one another, to the point that they ignore you and develop obedience concerns. 
Typically, the introduction of another doxie is recommended after your current pup is about 8-12 years old, and he/she has had a chance for independent training and bonding with you and recognizes you as the boss!
Use your own best judgement. There are rare doxies out there who just aren't into the idea of having another canine companion. Take into account your Dachshund's temperament, age, and health. 
A lack of socialisation in dogs is always a negative thing, but especially so in the feisty Dachshund. Littermate syndrome can mean that as they grow older, they have a good chance of becoming aggressive and very fearful of other dogs and other humans.
Training is difficult to say the least, and it can be a very distressing and heartbreaking situation. It is thought to be more common in female doxies.  With this being said, this is merely a cautionary note. Like anything, there are pros and cons.
There is absolutely nothing wrong with adopting littermates, just ensure that if you do go ahead with siblings that there is at least a few hours of independent time spent training and snuggling with you per day.
Exercise proper discipline and ensure they're able to cultivate their own individual personalities. The main thing to remember is that doxies are full of love.  With proper training and research, you can have a little family of Dachshunds with minimal issues.
1) The Call for More…
I have an aunt who started out with one doxie, and eventually ended up with four! She would always say that she couldn't help herself. There was always an urge to expand the love, so to speak.
Doxies have an influence so iconic and prevalent that a popular text post 'meme' gained popularity a few years ago about 'Multiple Dachshund Syndrome' and has produced merchandise such as coffee mugs, blankets, shirts and hats. 
Where Dachshunds have gained many fans the world over it's not a surprise that most doxie owners end up with multiples.
They're such fun loving, spirited dogs that love having social companions that it's hard to resist when your trusted breeder announces a new litter. 
2) Built in Best Friends
Dachshunds of course are silly and personable pups on their own, but get a second playmate for your current doxie and watch the love and fun times unfold.
They'll sleep together, play together, follow you everywhere, and generally be quite protective of their home and of you. They also tend to mirror each other, so when one gets excited – the other likely will too.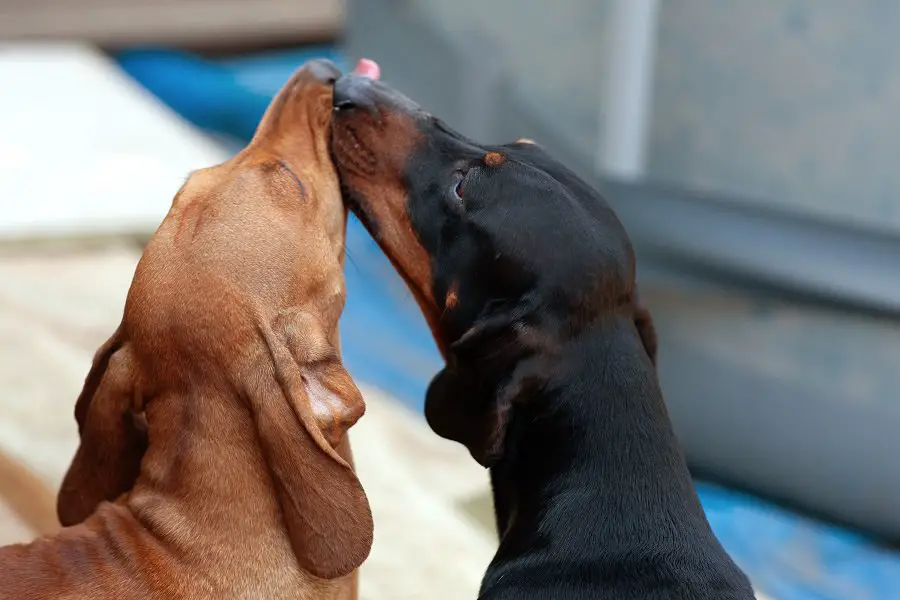 It also helps with the general anxiety of going to a new home if the pup has a built in friend and playmate.
Of course managing that initial anxiety is easier if you adopt siblings, but even a brand new doxie being introduced to your current sausage will appreciate the 'familiar face'.
It's debated over whether or not a Dachshund (or indeed, any dog) can recognize its own breed, but at the very least, they will recognize the sausage way of being.
Dogs recognize similarities in other dogs that share physical characteristics with them. They also pick up on similar social and communication skills, which will instinctively help your new doxie settle in.
They might not 'know' that it's another doxie upon meeting, but they'll know that they have similar features to them.
3) Your Own (free) Trainer
When you bring your new sausage friend home, there's a high chance that your current doxie will be an invaluable help with showing your new pup the ropes.
Of course, it is important to note the temperament of your current Dachshund and gauge how much or how little hand-holding that they'll need through the introduction process.
Ensure to give plenty of positive reinforcement no matter what. Treats are good of course, but particularly when the new puppy is around so that they associate him/her with positive reward.
Of course, positive and kind words are all important no matter your doxie's attitude.
Make sure to introduce them gently and slowly at first. Let your new pup explore their surroundings without interference from your other doxie, and ensure the pup gets the lay of the land before introducing your current friend.  
Most older and well adjusted dogs will instinctively look upon this as an opportunity to train and take the younger puppy under their wing.
It's often thought that they know that this task is expected of them when a new one comes into the fold.
Normal behaviours during the initiation process are strong eye contact as well as rolling the new pup onto his back if there is an infraction. So long as this is simple correction and not outright hostility, this is fine. 
4) Cost Effective
One might think adding a second doxie to the mix is extremely expensive, but aside from the initial purchasing/adoption cost (which can range from a few hundred to a few thousand), this is not always the case.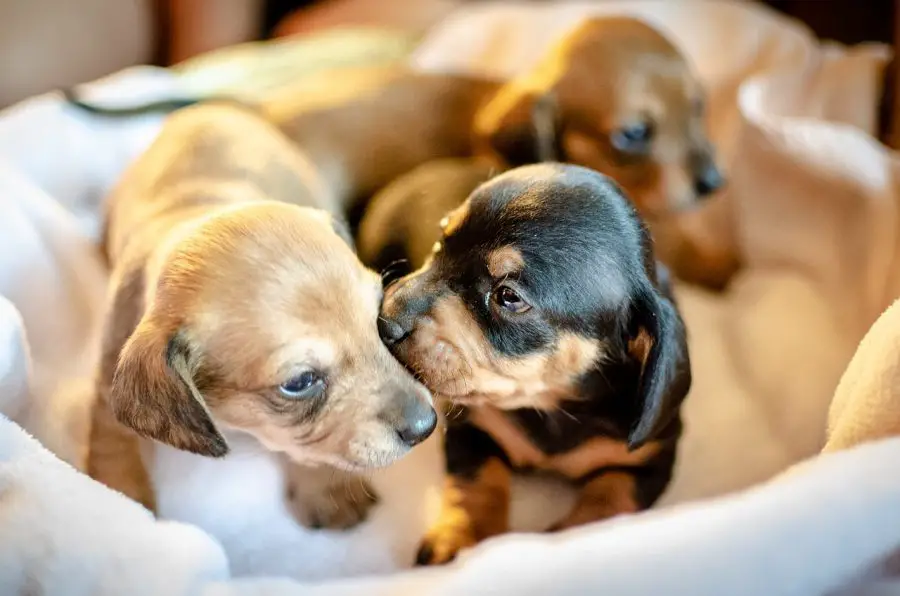 Consider of course doubling the cost of bedding, food, grooming and toys.
These are not massive expenses, however. If you can cover the initial cost of adoption, the cost of an emergency veterinarian fund, bedding, any medications and food/treats – then you're all set.
Your overall monthly average costs (provided your doxies are in good health) should be relatively low with such a high, loveable gain.
5) A Little Bit of Extra Security
Having even just one Dachshund means that no matter what time of day it is, even if it's just someone harmlessly delivering your mail or out for a walk…you will hear about it.
The loyalty that these dogs have to their family unit is unmatched, so imagine doubling it.
Dachshunds are very alert, indeed, they are a hunting breed. With a tendency for suspicion and protectiveness by nature, they will ensure your front lawn is well guarded.
They can be very territorial, so be mindful that they don't bark in excess or develop nastiness around strangers. These are excellent dogs to have if you want a little extra security and peace of mind.
They might not have the physical size, but they make up for it with their massive personalities and sharp yip. 
6) Exercise, exercise, exercise!
Doxies have been bred for stamina since the 15th century.
Being a hunting breed, it was especially important then to have a dog that could withstand long hunting parties and be able to chase and burrow down after prey such as rabbits, badgers and foxes.
These days you may not find yourself at a 15th century hunting affair, but you definitely will find yourself with two energetic sausages who love being taken out at least once a day.
They're also good companions on a hike, being able to walk long distances and climb varying degrees of elevation. Fetch is also a favorite, and can be done indoors as well.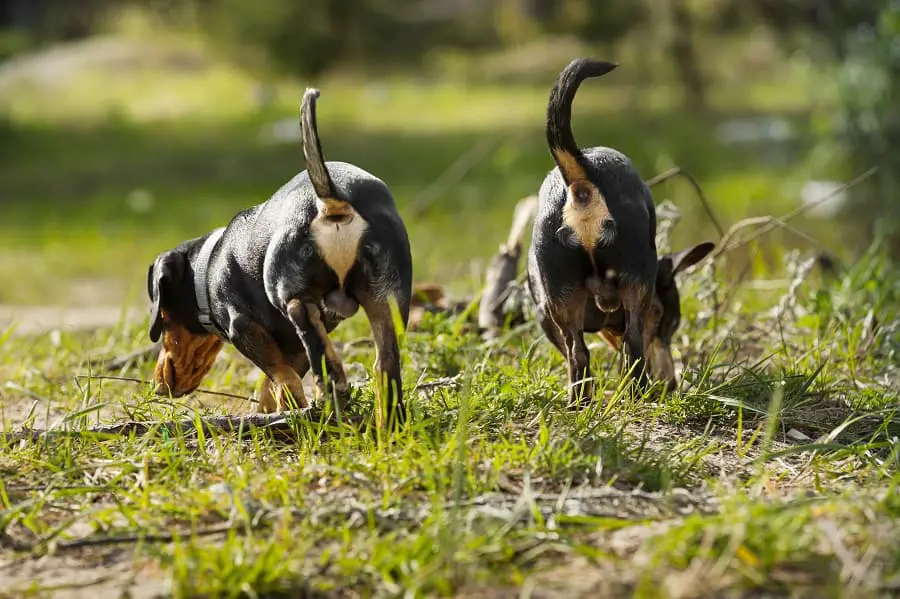 Ensuring that you take your pair of doxies out regularly is important for socialization and  health (as these little guys tend to become easily chunky). As well, it's important to have structure and discipline in their day to day routine.
It helps the pups relax and is excellent for their (and your) mental health. It also helps your own health to get out at least once a day for a minimum of 30 minutes of exercise. This is just another reason why two Dachshunds are better than one.
Twice the Love, Silliness and Fun
The bottom line here is that having multiple sausage friends is a sure way to enrich your life and another Dachshund's life.
Whether you adopt two littermates or adopt one new doxie into your fold, you're in for some high energy laughs and barking! 
Of course, take special care if you do adopt littermates to provide them with independence and ensure they're able to develop a personality outside of their sibling, but as long as you are mindful of this, there's no reason to fear.
Take the plunge and reap the love and fun that comes with having multiples for years.